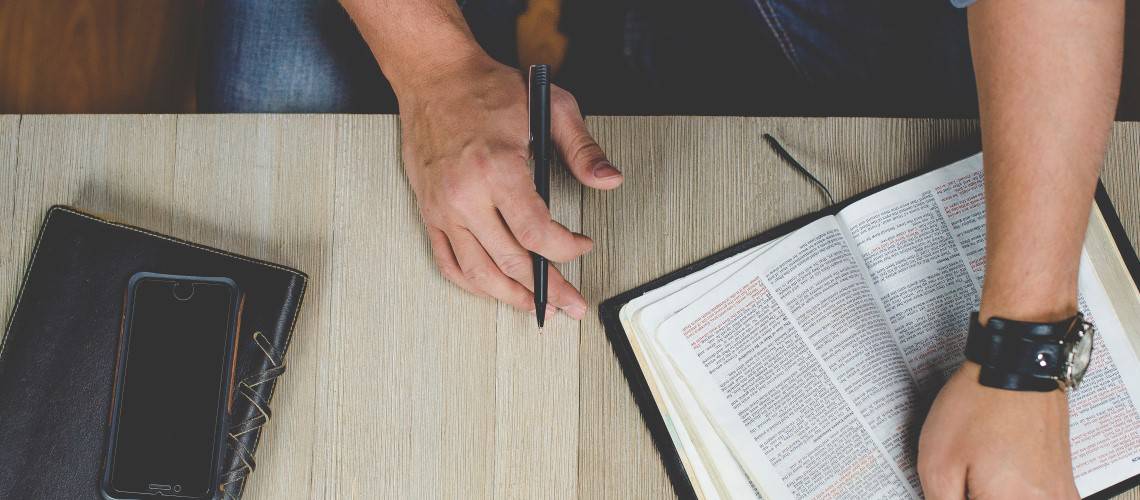 ---
Disciple Subscription Overview
In the Disciple courses you enjoy the content of formal courses but never do an exam or assignment. You only do what interests you and skip the rest. Total freedom!
---
Who are the Disciple Courses for
Those who want a deeper understanding of the Word of God.
Those seeking to deepen their faith, spirituality and relationship with God.
Those who want to understand God, humanity, their place in the world and how it all works together.
Those on a journey to get to know God better and what God has in store for them.
Those who desire to serve God as volunteer in a church or ministry.
Those in pursuit of justice, peace, mercy and truth.
Those seeking access to a broad range of high quality biblical teaching.
Those seeking a flexible and cost effective program of study.
---
What you'll learn
How to read and understand the Bible.
Who the Father, Jesus and the Holy Spirit are and your relationship God.
How to draw closer to God and deepen your faith, prayer and spirituality.
Leadership principles based in biblical concepts.
Ministry skills that will grow your church and ministry.
---
Requirements
Learners are welcome to commence this subscription at any time.
No pre-knowledge is required – enthusiasm is all you need!
A computer, tablet or smartphone is required.
No software is required (all software used in the course is included).
Lessons are presented in English.
---
Available Courses
Acts Part 1

Dr Jon Newton presents this step by step walk through the Book of ACTS – it's like a live commentary!

Curriculum Covered

Introduction to the Book of Acts
Acts as Literature
Occasion & Purpose of Acts
Themes & Theology of Acts
Historical & Critical Issues
Opening & Overview
Ascension & Promise
The Spirit Comes
Peter's Explanation
Response & Baptism
Early Believers
Healing & Explanation
Trial of Peter & John
Challenges of the Early Church
2nd Arrest & Problems Within
Stephen's Speech & Death
Scattered Church – Samaria
Philip & Saul
Saul's Early Ministry

About your instructor
Acts Part 2

Dr Jon Newton presents this step by step walk through the Book of ACTS – it's like a live commentary!

Curriculum Covered

Peter & Cornelius
Caesarea & Antioch Church
Herod & the Jerusalem Church
The 'First Missionary Journey' (1)
The 'First Missionary Journey' (2)
The 'First Missionary Journey' (3)
The Issues
The Debate
The Decision
The 'Second Missionary Journey': Philippi
Thessalonica to Athens
Corinth
Transition to Ephesus
Triumph in Ephesus
End of Paul's Free Ministry
Riot in Jerusalem
Paul's First Defences
Paul's Second Defences
Journey to Rome & the Storm
Shipwreck & Final Arrival
End of the Story

About your instructor
Analyse & Apply the Bible

This series of lessons are designed to equip students with the skills and knowledge required to utilise the features of a study Bible, as well as historical and cultural analysis to compose an accurate application of a biblical passage.

Curriculum Covered

Course Description
Introduction to Interpretation
Introduction to Study Bibles
A Pattern for Application
Look for Clues
Original Audience & Historical Context
Researching Historical Context
Genre Pitfalls (Part 1)
Genre Pitfalls (Part 2)
Literary Context
Observation
From Analysis to Meaning
But we are different… aren't we?
Meaning to Application
Summary & Example

About your instructor
Ancient Israel Explored

Axx Founder & CEO Dr Brendan Roach takes us on a study tour of Israel, and her neighbours Jordan and Egypt. At numerous biblical and archaeological sites he introduces the historic, cultural and religious significance of the location.

Curriculum Covered

Episode 1
Episode 2
Episode 3
Episode 4
Episode 5
Episode 6
Episode 7
Episode 8
Episode 9
Episode 10

About your instructor
Authentic Leadership

This course is designed to equip students with the skills and knowledge required to lead others effectively in a manner that is shaped by a Christian understanding of leadership.

Curriculum Covered

Introduction to Authentic Leadership
Introduction to Leadership
Christian Leadership
Mission & Vision
Values
Organisational Behaviour
Preparing a Vision Document
Motivation & Inspiring Others
Credibility & Earning Trust
Communication & Obtaining Favour
Recruitment
Building a Team
Evaluation of Performance
Morale
Making Decisions
Leading Change
Dealing with Conflict
Dealing with Criticism
The Leader's Character
Inner Challenges of a Leader
Flexible Leadership
Critical Thinking & Learning from Experience
Critical Thinking & Evaluating Yourself
Sustainable Leadership

About your instructor
Beyond Beersheeba: Anzacs in the Holy Land

Filmed (2008) by Axx media manager, Gary "Tex" Houston, this series takes you from Beersheba through Philistine Plain, Jerusalem, the Jordan Valley & beyond highlighting the extraordinary work of the Australian Light Horse 1917-18.

Curriculum Covered

Charge at Beersheba
Push Toward Jerusalem
Into Jerusalem
Jordan Valley & Beyond
Battle of Armageddon
Into Damascus

About your instructor
Bible Leadership Women

This course provides an advanced framework for understanding the role of women in ministry leadership. You'll learn about the key theological concepts that underpin the issue, allowing you to view women in leadership from a biblical perspective.

Curriculum Covered

Foundations of Ministry in the Apostolic Age
Important Concepts of Ministry from the Apostolic Age
Historical Development of Ministry
Women's Subordination in History
Various Views on Women in Scripture and the Importance of Beginnings
Jesus & Women
The Thinking of Paul Concerning Women and Leadership
Key Issues

About your instructor
Creation Magazine Live

Creation Ministries International tackle some of life's biggest questions in Creation Magazine Live! Does science disprove the Bible? Why are youth leaving the church? If God created the universe, then who created God? Answers to these and more..

Curriculum Covered

Why Youth Leave the Church?
How Long were the Genesis Days?Historical Development of Ministry
If God Created the Universe then who Created God?
Evolutionary Creation, Round Squares & Other Nonsense
Is Genesis Poetry?
Archaeology Supports the Bible
The Christian Response to Aliens & UFO's
Big Bang & the Bible
What is the Image of God
Creationists Damage Christianity?
Pluto: Another Young Planet
Energizing your Spiritual Growth
Were Adam & Eve Real People?
Who Were the Nephilim?
Radiohalos Ruin Radiometric Dating
Does God Exist?
Faith & Facts
Was Jesus Wrong About Creation?
Gain of Function Mutations: Not Evidence for Evolution

About your instructor
Crossing Cultures

In this course, you'll be equipped with the knowledge and frameworks in how to effectively take the gospel around the world and communicate it to cultures that are different to your own.

Curriculum Covered

Course Introduction
Biblical Basis for Mission
Why Mission?
How do we do Mission?
Understanding Culture
God & World Cultures
Contextualisation
Global Trends in Mission
Mission Trends (1)
Mission Trends (2)
Models of Mission Work (1)
Models of Mission Work (2)
Models of Mission Work (3)
Models of Mission Work (4)
Case Study: Urban Missions (1)
Case Study: Urban Missions (2)
Case Study: Urban Missions (3)
Case Study: Urban Missions (4)
The Practicalities of Going Cross-Cultural
Dealing with Spiritual Props
Character
Cross-Cultural Stress
The Missionary Call
Paul's Methods (Case Study)
Keys for Effective Cross-Cultural Work (1)
Keys for Effective Cross-Cultural Work (2)
Short-Term Mission Trips (1)
Short-Term Mission Trips (2)
Short-Term Mission Trips (3)
Crossing Cultures Course Review

About your instructor
Foundations of Leadership

This course explores some of the foundational principles of leadership in ministry. You'll learn about conflict management, leading collaboratively, failure, risk and decisions, before the course moves into implementing and sustaining change.

Curriculum Covered

Sources & Styles of Conflict
Biblical Principles of Conflict Resolution
Failure & Decisions
Risks & Opportunities
Leading Collaboratively
Vulnerability of the Leader
Accountability of the Leader
Leaders as Mentors
Leaders as Coaches
Leaders as Disciplers
How do you Measure up?
Change! Why?
Leadership: Influencing People to Change
How do you Sustain the Change Process?

About your instructor
Gospel of Matthew

The Gospel of Matthew brings the original Jesus narrative to the screen using the Gospel text as its script, word for word. Informed by world experts' theological, historical and archaeological research on every aspect of life in the first century.

Curriculum Covered

The Beginning
The preparation
The Sermon on the Mount
The deeds of the Messiah
The Mission
Doubt and opposition
Teaching in parables
Ministry and confrontation
Announcement of the cross
Life in the kingdom
On the way to Jerusalem
Ministry in Jerusalem
The Scribes, Pharisees and Jerusalem
Destruction and the End Times
Jesus' death and resurrection

About your instructor
Intercultural Communication & Strategies for Ministry

Communication is a key skill for every follower of Jesus. In this course, you'll learn some of the key theory behind great communication as you discover how to strategically take the gospel message into intercultural settings.

Curriculum Covered

Welcome & Introduction
Introduction to Intercultural Communication
What is God's Communication Strategy?
Reality, Perception & Mental Mapping (1)
Reality, Perception & Mental Mapping (2)
Understanding Culture's Influence on Communication (1)
Understanding Culture's Influence on Communication (2)
Models of Cross-Cultural Communication
God's Approach: Communicating with Impact
Some Insights into Interpersonal Communication
An Inductive Interpersonal Model
Understanding Your Personal Culture
Understanding Your Personal Cultural Responses
Understanding the Unique Patterns of Different Cultures (1)
Understanding the Unique Patterns of Different Cultures (2)
Following Jesus' Example (1)
Following Jesus' Example (2)
What is the Receptor up to? (1)
What is the Receptor up to? (2)
What Role Does Context Play?
How does 'Meaning' Happen? (1)
How does 'Meaning' Happen? (2)
Verbal Communication & Language
Characteristics of Non-Literates & Oral Preference People
Orality: Some False Assumptions
Ten Myths Concerning Communication (1)
Ten Myths Concerning Communication (2)
Social Structures, Relationships & Influences (1)
Social Structures, Relationships & Influences (2)
Social Structures, Relationships & Influences (3)
Social Influence & Intercultural Competence (1)
Social Influence & Intercultural Competence (2)
Adapting to Context: Message & Messenger
Communicating Cross-Culturally with Power (1)
Communicating Cross-Culturally with Power (2)
Why Strategies?
Strategies (1)
Strategies (2)
Integration & Closure

About your instructor
Introduction to the Biblical Narrative

This course presents a 'bird's eye view' of the Bible as one story. Each video is aimed at equipping viewers with the skills and knowledge required to evaluate, communicate and apply the biblical narrative to a specific contemporary ministry context.

Curriculum Covered

Seeing the Bible as One Story
Orientation/Creation
The Plot: Solution: The Patriarchal Narratives
YHWH is crowned Israel's King
The Former Prophets: from Conquest to Exile
The Ups & Downs of Samuel
The Latter Prophets: Isaiah, Jeremiah, Ezekiel & Twelve
Jeremiah: the Weeping Prophet
The Writings
Lamentations: the Shedding of Righteous Blood
Who is Jesus?
The Crescendo of Jesus
The New Covenant
Epistles: New Covenant Prophets
Good Deeds are Essential
The Hope of Resurrection

About your instructor
Introduction to Biblical Studies: Part 1

This course will kick start your interpretive journey of the Scriptures as you unpack the nature of the Bible and how to read sentences, paragraphs and discourses within the biblical text.

Curriculum Covered

The Nature of the Bible (1)
The Nature of the Bible (2)
Pre-Understandings (1)
Pre-Understandings (2)
The Interpretive Journey (1)
The Interpretive Journey (2)
Reading Sentences
Reading Paragraphs (1)
Reading Paragraphs (2)
Observation
Reading Discourses (1)
Reading Discourses (2)

About your instructor
Introduction to Biblical Studies: Part 2

The Bible is not one book, but a collection of books with many genres. In this course, you'll uncover the different genres in the Bible and learn how they affect the way in which Scripture is read and interpreted.

Curriculum Covered

New Testament Genre: Gospels
New Testament Genre: Epistles
New Testament Genre: Revelation
Old Testament Genre: Narrative
Old Testament Genre: Law & Prophets
Old Testament Genre: Poetry
Old Testament Genre: Wisdom
New Testament Genre: Acts
Communicating the Passage
Where we have Been

About your instructor
Introduction to Biblical Studies: Part 3

It's difficult to get to the heart of the Bible without an understanding of biblical context. You'll dive into how to get a grasp of historical and literary contexts, before exploring word studies and getting to the original intention of the passage.

Curriculum Covered

Historical Context (1)
Historical Context (2)
Historical Context (3)
Literary Context (1)
Literary Context (2)
Literary Context (3)
Word Studies (1)
Word Studies (2)
Word Studies (3)
Meaning & Original Intention (1)
Meaning & Original Intention (2)
Meaning & Original Intention (3)
Interpretation
Holy Spirit & Interpretation
Application
Literary Context & Genre

About your instructor
Introduction to Theology: Part 1

This series systematically introduces every aspect of Christian theology. Beginning with asking the what, why, how and which of theology, the presenter Grant Buchanan moves to the ways God has and does communicate with People & Creation.

Curriculum Covered

What is Theology?
Why Theology?
How Theology?
Which Theology?
Revelation
General Revelation
Special Revelation
Bibliology: Study of Scripture
Theology of Scripture
Trustworthiness of Scripture
Biblical Interpretation
Theology of God
Existence of God
Attributes of God
Names of God
The Trinity
Creation (1)
Creation (2)
Angels (1)
Angels (2)
Demons & Satan
Theology of Humanity
Where did we come from?
Humanity
The Image of God

About your instructor
Introduction to Theology: Part 2

This series systematically introduces every aspect of Christian theology. Beginning with asking the what, why, how and which of theology, the presenter Grant Buchanan moves to the ways God has and does communicate with People & Creation.

Curriculum Covered

Sin & Salvation: Salvation
Sin & Salvation: Blood
Sin & Salvation: Evil
Sin & Salvation: Affliction
Christology
Heresies
The Creeds
The Deity of Jesus
The Humanity of Jesus
Atonement
Atonement in the New Testament
N.T. Wright on the Atonement
The Resurrection & Ascension
Who is the Holy Spirit?
The Holy Spirit in the Old Testament
The Holy Spirit in the New Testament
The Personhood of the Holy Spirit
The Fruits, Gifts & Baptism in the Spirit
Theology of Church
What is the Church?
Church: Local and Universal
The Church & the Kingdom
Church Leadership & Roles
Theology of the Future
Death
The Second Coming & the Rapture
The Millennial Reign & Judgement
New Heavens, New Earth

About your instructor
Jesus & the Gospels: Part 1

Take a closer look at Jesus & the Gospels in part one of this course, as you unpack the key structures and themes in the first four books of the New Testament. Explore the life and work of Jesus and understand the gospels at a deeper level.

Curriculum Covered

Course Introduction
Overview of the Gospels
Background to the New Testament
Criterion for the New Testament
Introduction to Critical Approaches
Form Criticism
Redaction Criticism
Orality & the Gospels
The Gospels as Literature
Matthew: Theology & Themes
Mark: Theology & Themes
The Construction of History
Luke: Theology & Themes
The Synoptic Problem
John (1)
John (2)
Reception & Harmonisation
Search for the Historical Jesus
Jesus & Kingdom
Paul & Jesus

About your instructor
Jesus & the Gospels: Part 2

Take a closer look at Jesus & the Gospels in part two of this course, as you unpack the key structures and themes in the first four books of the New Testament. Explore the life and work of Jesus and understand the gospels at a deeper level.

Curriculum Covered

Messianic Expectations
Jesus as Messiah
Jesus as Lord
Jesus as King
Gospels as Performance
Jesus as Prophet
Jesus as Teacher
Orality & the Gospels
Miracles
Jesus & Miracles
Jesus & Healing
Birth of Jesus
Baptism of Jesus
Galilean & Judean Ministry
Entry into Jerusalem
Stations of the Cross
Jesus & Conflict
The Eucharist
Death of Jesus
Resurrection of Jesus
Reading the Gospels Today
Engaging in Jesus' Teaching
The Past. The Present. The Future.

About your instructor
Jesus. Kingdom. Gospel.

This course gives an overview of the life and ministry of Jesus as described by four gospel narratives. The aim of the course is to bring understanding of the cultural and historical environment of the day within its literary setting.

Curriculum Covered

Introduction to Course
Concept of Audience
Internal Narrative Audience (1)
Internal Narrative Audience (2)
Internal Narrative Audience (3)
Interpretation
What are the Gospels?
Why Four Different Accounts?
Structure of Gospel Accounts (1)
Structure of Gospel Accounts (2)
Structure of Gospel Accounts (3)
Structure of Gospel Accounts (4)
What is the Gospel? (1)
What is the Gospel? (2)
History of the Birth of Jesus
The Passion Week
Jesus & the Fulfilment of the Old Testament (1)
Jesus & the Fulfilment of the Old Testament (2)
Jesus & the Fulfilment of the Old Testament (3)
Jesus is the Breather of Life
Putting it all Together
What does the Kingdom look like? (Mark)
Abstracting Principles
Application
What Does the Kingdom Look Like? (Matthew & Luke)
What Does the Kingdom Look Like? (John)
Jesus Kingdom Gospel Today?
Jesus' Commissioning

About your instructor
Longevity in Ministry

This course is designed to equip students with the skills and knowledge required to analyse different perspectives on suffering and overcoming and incorporate the biblical message on this issue into a current ministry experience.

Curriculum Covered

Longevity & Suffering
Overcoming
Old Testament Examples
New Testament Examples
Biblical Solutions
Principles Applied
A Personal Strategy
Reflection & Application

About your instructor
Navigating Team Dynamics

In this course you'll learn how to navigate some of the challenges associated with team dynamics. Topics covered in this course include conflict styles and resolutions, narcissism, success, status, ego, team reflexivity, virtual teams and more!

Curriculum Covered

Conflict Introduction
Recent Research in Conflict
Conflict & Personality
Conflict Styles
Conflict Resolution
Roles & Boundaries
Dealing with Difficult People
Virtual Teams
Group Pressure to Conform
Ethics in Teams
Team Creativity & Innovation
Introduction to Reflexivity
Team Quality Management
Narcissism
Success, Status & Ego
Encouragement
What Really Matters

About your instructor
New Testament: Part 1

Learn about what happened in between the two Testaments, and how the Jewish and Greco-Roman world shaped the setting of Jesus' story. You'll then go straight into the Gospel accounts, pulling apart their key themes, audiences and concepts.

Curriculum Covered

The Intertestamental Period
Varieties of Judaism
The Greco-Roman World
Formation of New Testament Canon
Origins of the Gospel
The Synoptic Question
Gospels as Witness to Jesus
Matthew: Unique Features
Jesus in Matthew
Mark: Unique Features
Jesus in Mark
Luke: Unique Features (1)
Luke: Unique Features (2)
Luke & Social Justice
The Holy Spirit in Luke
John: Unique Features
John & the Synoptic Gospels
Jesus in John
Miracles, Signs & Faith in John

About your instructor
New Testament: Part 2

This course looks continues your study into the New Testament, as you explore the structure and characters of the Book of Acts, before turning to the Apostle Paul as you unwrap his epistles to the early church.

Curriculum Covered

Acts: Introduction
Acts: Structure
Acts: Main Characters
Acts & the Holy Spirit Today
Introduction to Paul
Galatians
1 Thessalonians
2 Thessalonians
1 Corinthians
2 Corinthians
Romans (1)
Romans (2)
Ephesians
Philippians
Colossians
Philemon
Introduction to the Pastoral Epistles
1 Timothy
2 Timothy
Titus

About your instructor
New Testament: Part 3

Beginning at the letter to the Hebrews, this course explores the Epistles of James, Jude, 1 & 2 Peter, 1, 2 & 3 John, and Revelation. You'll get to know the authors, the audiences and the context of the letters in this study of the New Testament.

Curriculum Covered

Hebrews (1)
Hebrews (2)
James
Jude
1 Peter
2 Peter
1 John
2 & 3 John
Revelation (1)
Revelation (2)
Revelation (3)
New Testament Survey Summary

About your instructor
Old Testament: Part 1

A series of epic proportions! Dr Ashley Crane, an expert in Old Testament studies, will walk you through the history, story and theology of the 39 ancient books we know as the Old Testament -crammed with gold. Part 1: Genesis – Deuteronomy.

Curriculum Covered

Why Study the Old Testament?
Scripture
Documentary Hypothesis
Genesis Part A
Genesis Part B
Genesis 12: Abraham
Sacrifice of Isaac
Isaac
Jacob: Covenant Man
Joseph
Exodus Part A
Exodus Part B
Exodus Part C
Leviticus
Numbers
Deuteronomy Part A
Deuteronomy Part B
Canaanite Influence
Deuteronomistic History

About your instructor
Old Testament: Part 2

A series of epic proportions! Dr Ashley Crane, an expert in Old Testament studies, will walk you through the history, story and theology of the 39 ancient books we know as the Old Testament -crammed with gold. Part 2: Prophets & Prophecy – Nahum.

Curriculum Covered

Prophets & Prophecy
Joshua
Judges
1 Samuel
2 Samuel
1 Kings
2 Kings
Northern Kingdom Overview (1)
Northern Kingdom Overview (2)
Southern Kingdom Overview (1)
Southern Kingdom Overview (2)
Amos
Hosea
Isaiah Part A
Isaiah Part B
Micah
Jeremiah Part A
Jeremiah Part B
Jonah
Nahum

About your instructor
Old Testament: Part 3

A series of epic proportions! Dr Ashley Crane, an expert in Old Testament studies, will walk you through the history, story and theology of the 39 ancient books we know as the Old Testament -crammed with gold. Part 3: Habakkuk – Ecclesiastes.

Curriculum Covered

Habakkuk
Zepheniah
Ezekiel Part A
Ezekiel Part B
Daniel
Joel
Esther
Ezra
Nehemiah
Zechariah
Haggai
Malachi
Chronicles Part A
Chronicles Part B
Wisdom Literature
Hebrew Poetry
Job
Psalms Part A
Psalms Part B
Proverbs
Song of Solomon
Ecclesiastes
Effects of the Exile Diaspora

About your instructor
Pentecostal History

Well known Statesman of the Australian Pentecostal Church, Dr Barry Chant, takes us through the various movements and ministries that form the foundation of the ministry of the Holy Spirit in the past century.

Curriculum Covered

Course Introduction
Why Study History?
Attributes of New Movements
Charismata in the First Five Centuries
Social & Historical Background
The Age of Wesley
Wesleyanism
The Nineteenth Century
18th & 19th Century Missions
19th Century Healing Ministries
J.A. Dowie
Methodist Holiness Teaching
Beginnings of Pentecostalism
Parham & Seymour
Assemblies of God & Oneness
The Revival of Pentecostalism
India
The United States of America
Healing Revivals & Oral Roberts
T.L. Osborn
Africa
Korea
Brazil & China
Questions about Pentecostalism
Pentecost in Europe
European Revivalists
Renewal Movements
Third Wave & Spirit Baptism (1)
Third Wave & Spirit Baptism (2)
Pentecostalism in Australia
Sarah Jane Lancaster & the Good News Hall
F.B. Van Eyk (1)
F.B. Van Eyk (2)
The Sunshine Revival
The Apostolic Church
The CRC Churches
Missionaries & Mega-Churches
Australian Pentecostal Churches
So What (Now)?

About your instructor
Personal Management & Spiritual Health

This course is designed to equip students with the skills and knowledge required to apply holistic Christian practices and personal management skills.

Curriculum Covered

Course Introduction
Make the main thing the main thing
Spiritual Disciplines – Growth
Spiritual Disciplines – Practicalities
Introduction to Identity
Building a Healthy Self
Values
Christian Values
Personal Mission Statement
Goals
Prioritising & Time Management – priorities and the 4 quadrants
Prioritising & Time Management – organising & executing
Health & Wholeness
Goals – review and evaluation

About your instructor
Principles of Teamwork

In this course, you'll learn about the importance of working well in a team within a ministry setting. Our experts cover the developing teams, team culture, emotional intelligence theory and how to deliver and receive effective feedback.

Curriculum Covered

What is a Team?
Types of Teams
Stages of Team Development
Developing Teams
Johari Window
DISC & Teams
Team Culture
Team & Leader Relationships (1)
Team & Leader Relationships (2)
Diverse Teams
Team Emotional Life
Emotional Intelligence Theory
Emotional Intelligence Practical
Team Emotional Life: Belonging
Team Social Dimensions
Three Levels of Communication
Communication Questions
Feedback (1)
Feedback (2)

About your instructor

Note prices are listed in Australian dollars
Revelation Today: Intro & Background

For today's reader, embarking on a journey through the Book of Revelation can be a challenging quest. In this course, you'll walk through Revelation alongside our international experts, unpacking the background and context of the letter.

Curriculum Covered

Author & Date
Historical Background
Occasion & Purpose
Rhetoric in Revelation
Reception History of Revelation
Major Interpretive Approaches
Modern Approaches
Genre (1)
Genre (2)
Structure & Literary Features
Intertextual References

About your instructor
Revelation Today: Commentary Part 1

Continue your journey through the Book of Revelation in part one of this commentary. With world class insight, unshroud some of the mysteries of the Book, as you learn how to read and understand this dynamic section of Scripture today.

Curriculum Covered

Revelation 1:1-8
Revelation 1:9-20
Revelation 2-3 (A)
Revelation 2-3 (B)
Revelation 4
Revelation 5
Revelation 6
Revelation 7
Revelation 8
Revelation 9
Revelation 10
Revelation 11:1-14
Revelation 11:15-19
Revelation 12:1-6
Revelation 12:7-12
Revelation 12:13-17

About your instructor
Revelation Today: Commentary Part 2

Continue your journey through the Book of Revelation in part two of this commentary. With world class insight, unshroud some of the mysteries of the Book, as you learn how to read and understand this dynamic section of Scripture today.

Curriculum Covered

Revelation 13:1-10
Revelation 13:11-18
Revelation 14:1-11
Revelation 14:12-20
Revelation 15
Revelation 16
Revelation 17:1-6
Revelation 17:7-18
Revelation 18:1-8
Revelation 18:9 – 19:3
Revelation 19:4-21
Revelation 20:1-6
Revelation 20:7-15
Revelation 21:1-8
Revelation 21:9-27
Revelation 22:1-5
Revelation 22:6-20
Conclusion

About your instructor
Seven Churches of Revelation Explored

This exciting series takes you on-site to the cities of the Book of Revelation. Join Dr. Brendan Roach on this guided tour through these major Biblical sites, as you go behind and beyond the text to bring the Book of Revelation to life!

Curriculum Covered

Ephesus (1)
Ephesus (2)
Smyrna
Pergamom (1)
Pergamom (2) & Thyatira
Sardis
Philadelphia & Laodicea

About your instructor
The Trinity

This is an advanced course on the distinctive Christian doctrine of the Trinity. International expert Dr. Kevin Giles provides a framework to engage with and understand the issues surrounding traditional Trinitarian theology.

Curriculum Covered

Course Description
Introduction
God in the Bible
The Early Centuries
Arius & Athanasius
The Fourth & Fifth Centuries
Reformation
Issues in Expressing the Reality of Trinity
Some Theological Issues
20th Century German Theologians
Varying Expressions of the Trinity

About your instructor
Theology of God

This course introduces the theology of God, as you explore the relevance of theology, the Trinity in the Old and New Testament, the person and work of Christ and the Holy Spirit, as well as the gifts and fruits of the Spirit.

Curriculum Covered

Introduction and Relevance
Talking Theology
Introducing the Trinity
Trinity in the Old Testament
Trinity in the New Testament
God as Trinity
Trinity as Community
Historical Misconceptions
God the Father
God the Son
God the Holy Spirit
Trinity Together
The Work of Christ
The Work of the Holy Spirit
Gifts & Fruit of the Holy Spirit

About your instructor
Theology of Humanity

In this course, you'll learn some of what the Bible has to say about humanity. Unpack topics like the "image of God", God's response to sin, the humanity of God, suffering and forgiveness, sexuality, women in ministry and the environment.

Curriculum Covered

The Image of God
A Broken & Damaged Image
The Human Response to Sin
God's Response to Sin
The Humanity of God
God & Freedom
Suffering & Forgiveness
Unity
Theology to Application
Trinity & Family
God & Sexuality
God & Gendered Language
Women in Ministry
Church & Ethnicity
Church & the Environment
Trinity & the Poor

About your instructor
Theology of Worship

This course approaches the subject of biblical worship from a theological and historical viewpoint. Presenter Tex Houston begins with a biblical model to form a foundation stone for our worship – that is the life, work & ministry of Jesus.

Curriculum Covered

Introduction to Course – Questions, questions?
Words of Praise & Thanksgiving
Words of Worship
Creation, Abraham & Beyond
The Tabernacle, Levites & Law
David's Tabernacle (Is it all About Music?)
Jesus' Life, Ministry & Worship
Jesus Our High Priest
Once for All – the Holy Spirit Given
Romans 12: 'A Living Sacrifice'
The 'Law of Christ' (Matthew 5, 6 & 7)
John 4: In the Spirit & In Truth
Corinth & Spirit- Filled Worship
Worship, Communion & Baptism
The Development of Liturgy
Church Service: First 500 Years
Worship & The Reformation
Pentecostalism & the Mega-Church
Powerful & Prophetic Praise
Spiritual Warfare & Music
Spiritual Disciplines & Worship
Worship Lifestyle & Evangelism
'The Art of Give'
Worship & the Future

About your instructor
Theology: Ministry in the Spirit

The talks in this series are presented by a number of experienced ministry leaders, with the emphasis falling on; the Holy Spirit – who He is and what He loves to do, the Spirit's work with and through believers, and Holy Spirit empowered outreach.

Curriculum Covered

Introduction to Course
The Spirit the Life Giver
The Person of the Holy Spirit
Holy Spirit Baptism
Relating to the Holy Spirit
The Work of the Spirit
Community of the Spirit
The Gifts of the Spirit
Experiences of the Holy Spirit at Work
The Fruit of the Spirit (1)
The Fruit of the Spirit (2)
Jesus & Ministry of the Holy Spirit
What Does Ministry in the Spirit Look Like?
When Prayer Doesn't Work
Evangelism in the Gospel: Jesus
Evangelism with Paul & the Apostles
The Breath of the Gospel
Different Approaches to Evangelism
Sharing Your Testimony
The Missional Discussion
Talking to Non-Christians
Spirit Led Ministry
Discipleship & Follow Up
Following People Up
Developing an Understanding of the History of the Holy Spirit
The Rise of Pentecostalism
The Contemporary Landscape

About your instructor
Towards Belief

Is it reasonable to be a person of faith? How can we deal with issues of suffering, science, violence, abuse and the supernatural in our consideration of God? Towards Belief is a series that sets out to provide responses to these big questions.

Curriculum Covered

Suffering
The Bible
Supernatural
Religious Violence
Exclusive Faith
Church Abuse
Science and God
Homosexuality
The Church
Towards Belief

About your instructor
Wealth With Purpose: Financial Freedom Express

Is it reasonable to be a person of faith? How can we deal with issues of suffering, science, violence, abuse and the supernatural in our consideration of God? Towards Belief is a series that sets out to provide responses to these big questions.

Curriculum Covered

Money Mindset
Goal Setting
Budgetting
Emergency Funds
Intimacy With God
Protecting Your Income
Repentance and Restitution
Estate Planning
Idolatry
Protecting Your Family
Money Values
Bible and Debt
Getting Out Of Debt
Saving
Generosity
Contentment
Marriage and Money
Getting Advice
Multiplication
Why The Bible Talks About Money
The Key to Wealth Creation
Power of Attorney
Create a Growing Income Stream
General Insurance
Buying Vs Renting
Credit Cards
What Lies Have You Believed
The Foundation of Wise Management
Controlling Your Cash
Good Stewardship
Long Term Planning
Investment Principles
Understanding Risks
Eternal Focus

About your instructor
---
Enrolment & Payment Options
Monthly Subscription
Monthly Subscription
(flexible choice)
Annual Subscription
Annual Subscription
(best value)
Note prices are listed in Australian dollars
Course endorsements
"The material that Axx has acquired is high-quality, credible, trusted, insightful and discipleship focused. It is an outstanding resource for believers and Churches."

Rheban Bradley, General Manager Koorong Books